Ohio State knocked out No. 1 Georgia.
Well…in the Battle for Bowl Week competition, at least. The Buckeyes won four of five team activities against the Bulldogs throughout the week to win the Bowl Week Championship belt, winning the "Drop It Like It's Hot", basketball, bowling and Andretti Indoor Karting.
But hey, the team that wins the Battle for Bowl Week competition has won seven of the last 11 Peach Bowls, so that's something, isn't it?
The Buckeyes lost their only event of the competition on Monday when four offensive players, four defensive players and two assistant coaches from both teams faced off in "Football Feud," a well-shot game from the popular game show Family Feud. OSU bounced back later that night by winning the Drop It Like It's Hot event, where teams were given multiple-choice questions and had 15 seconds to chat. They were given a fixed number of points that they could bet on each answer. One by one the incorrect answers disappeared from the screen with all points bet on that answer. OSU won 1,500-1,000.
Players from Ohio State and Georgia squared off in a pair of game show-style contests tonight to kick off Battle for Bowl Week. After Georgia won the first contest (Family Feud), Ohio State won the second contest (trivia) to win the Battle for Bowl Week belt for now. pic.twitter.com/EBQ00PeQdC

— Dan Hope (@Dan_Hope) December 27, 2022
Remember when CJ Stroud said the Ohio State football team could beat the basketball team in a basketball game at Big Ten Media Days in July? Well, Ohio State basketball players certainly disagreed with his assessment. But could they beat the Georgia football team in a basketball game? They've done it before in a Wednesday night basketball challenge. Some players had a 45-second window to make as many free throws as possible, and the Buckeyes won the contest 140-123. Unsurprisingly, Stroud was one of the Buckeyes' representatives, along with former high school basketball players Cade Stover and JT Tuimoloau.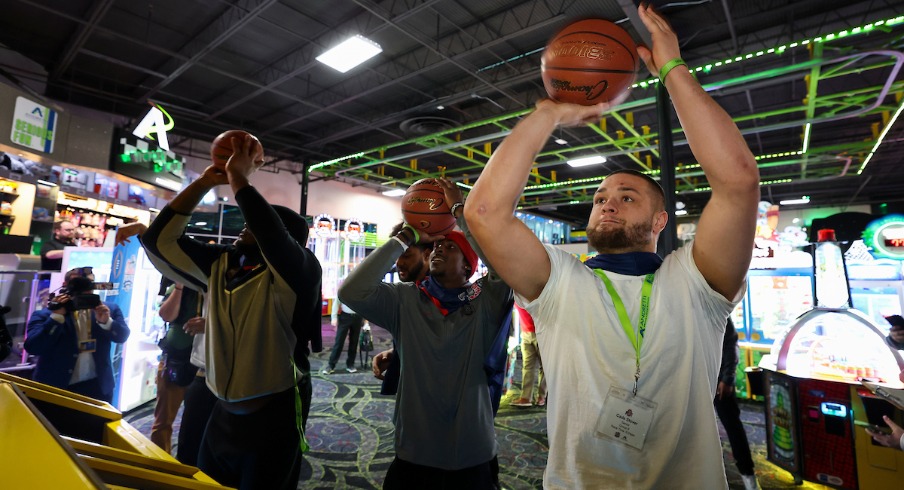 OSU won the competition by winning the Andretti Bowling contest on the same night, with each team selecting two players to compete. The Buckeyes won the event 416-378. Ohio State capped off the evening in style by winning the final event, Andretti Indoor Karting. The average lap time of each team was totaled and the team with the fastest average time was declared the winner. OSU beat Georgia by three-tenths of a second for fastest average lap time.
The Buckeyes will now look to beat Georgia in the competition that really matters when they face the Bulldogs on the football field at 8 p.m. Saturday at Mercedes-Benz Stadium.